My Favourite Cottage Recipes
Summer is one of my favourite times of year for the simple reason that our family – my children and grandchildren congregate together at the cottage. I am always on the hunt for recipes that are quick, simple and allow me to prep beforehand so that I can enjoy as much time as possible outside, and not in the kitchen. These three recipes are always on rotation and have become favourites in the family.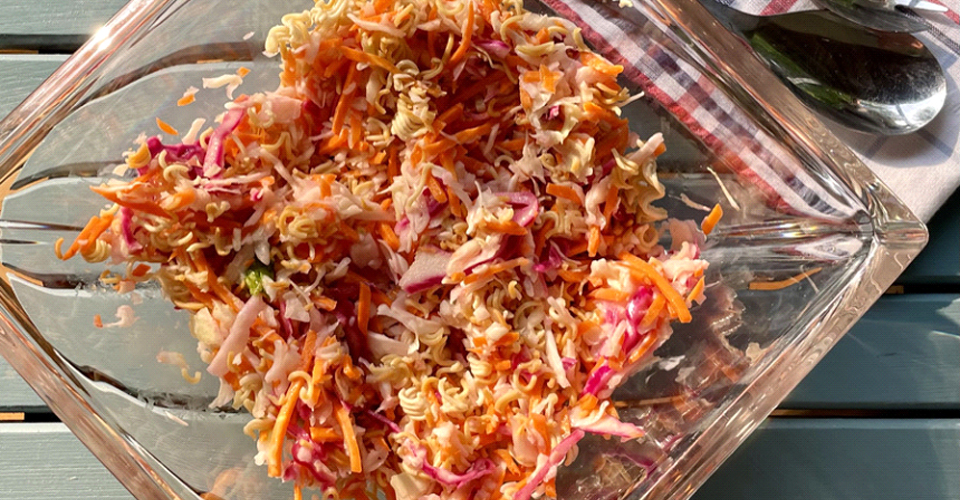 Crunchy Coleslaw
In my mind, coleslaw is a must-have for a cottage meal. I particularly love this recipe because of the addition of the ramen noodles. It gives the dish a delicious and unexpected crunch. I like to make the ramen noodles beforehand and add it right before serving so that the noodles don't get soggy.
Ingredients:
1 medium cabbage shredded
¼ cup red cabbage, shredded
2 or 3 carrots, grated
½ cup oil
¼ cup vinegar
1 tbsp honey
4 tbsp Dijon mustard
3 cloves garlic crushed
2 pkg ramen noodles (crushed)
3 tbsp brown sugar
¼ cup sliced almonds
Salt and pepper
Instructions:
Place cabbage and carrots in the bowl. In a separate bowl, whisk together oil, vinegar, honey, mustard, and garlic. Toast ramen noodles in a pan with brown sugar and sliced almonds. Sprinkle over salad before serving. Salad can be made a day in advance to marinate.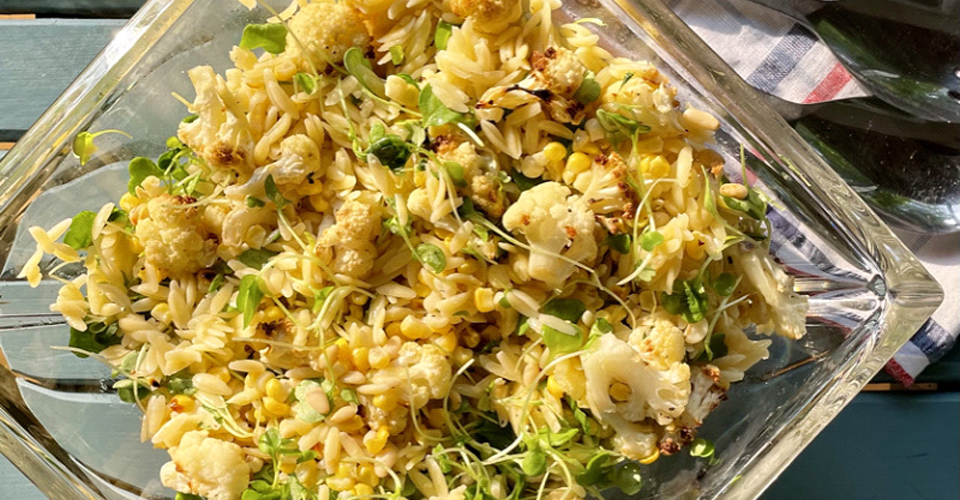 Roasted Cauliflower Orzo Salad
This Roasted Cauliflower Orzo Salad was an unexpected hit a few summers ago. All the flavours meld together to create the perfect summer salad. I love the addition of the fresh corn in this salad. I always seem to have leftover grilled corn in my fridge when the corn is in season. Just cut the corn off the cob, and if you don't want to grill it, you can also eat it raw when corn is at its best. Feel free to make the orzo and roasted cauliflower in advance and serve it warm or cold.
Ingredients:
8 ounces uncooked orzo
1 large handful fresh baby arugula
Batch roasted cauliflower (see below)
1/2 cup crumbled feta or goat cheese
1/2 cup toasted pine nuts
1 small red onion, thinly sliced
½ cup fresh or grilled corn
Roasted Cauliflower:
1 head cauliflower
1 tablespoon olive oil
Kosher salt and black pepper
Vinaigrette:
1/4 cup olive oil
3 tablespoons lemon juice
3 tablespoons chopped fresh parsley
2 tablespoons red wine vinegar
1/2 teaspoon Kosher salt
1/4 teaspoon black pepper
Method for the salad:
Cook the pasta in a large stockpot of water until it is al dente, according to package directions. Drain pasta and rinse under cold water for about 20-30 seconds until no longer hot. Set aside.
In a large mixing bowl, combine the cooked pasta, roasted cauliflower, corn, feta, pine nuts, red onion, and vinaigrette.  Toss until evenly combined.
Serve immediately, or cover and refrigerate for up to 3 days.
Method for roasted cauliflower:
Heat oven to 400°F.
Add the cauliflower to a large mixing bowl, drizzle evenly with olive oil, and toss until combined. Turn the cauliflower out onto a large baking sheet and spread out in a single layer.  Season evenly with a few generous pinches of salt and pepper.
Bake uncovered for about 25-30 minutes, or until the cauliflower is lightly browned and tender.  Remove from the oven and set aside until ready to use.
Method for Vinaigrette:
Whisk all ingredients together in a small bowl or jar until completely combined.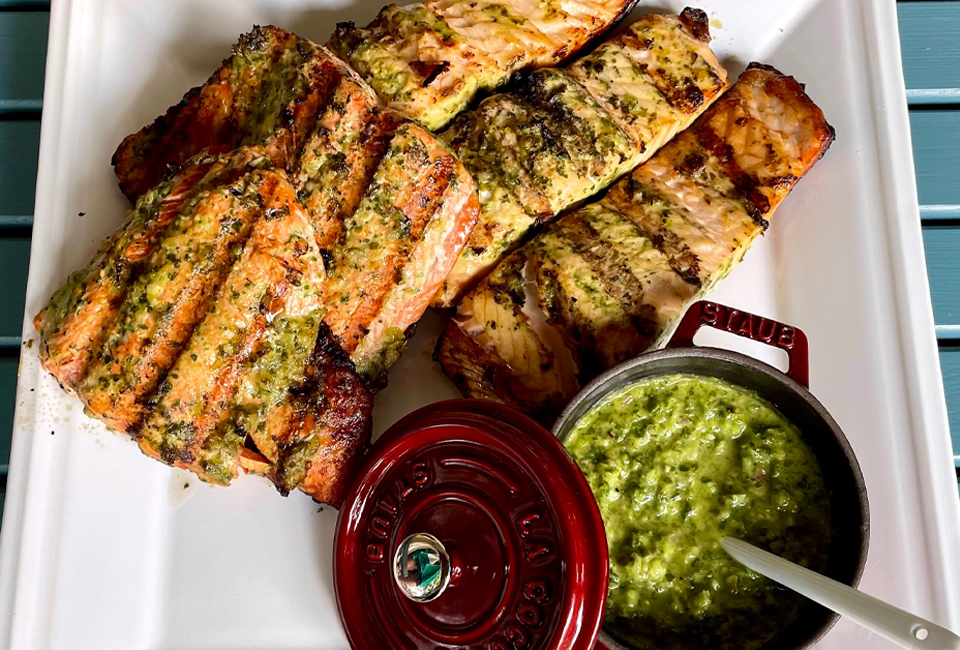 Chimichurri Sauce
Chimichurri sauce is the ultimate sidekick to any protein. Here I have done it with salmon, but it will also work beautifully with chicken or any other meat. It adds a huge punch of flavour and tastes like summer in your mouth. It is also super simple and quick to make. Just add all your ingredients in a food processor or blender and you're ready to go.
Ingredients:
1 shallot
1 red jalapeño
3 garlic cloves
½ cup red wine vinegar
1 tsp. kosher salt, plus more
½ cup cilantro
¼ cup flat-leaf parsley
¾ cup extra-virgin olive oil
Instructions:
Combine all ingredients and blend. Transfer ½ cup chimichurri to a small bowl; season with salt and reserve as sauce.
Toss salmon with remaining chimichurri. Cover and chill at least 3 hours or overnight.
Remove fish from marinade and grill.