Summer's Strawberry Bounty
Strawberries call out to me at this time of year. They're plump, juicy, with tons of flavour – perfect for baking.
My favourite summer dessert by a longshot is this strawberry torte. It is simple to put together and the best thing about it is you can mix it up. For this one, I used peaches with strawberries but you can also pair strawberries with rhubarb, peaches, blueberries, anything goes really with this torte. Using a springform pan for this recipe creates a beautiful crust up the sides so that you can enjoy its deliciousness in every bite.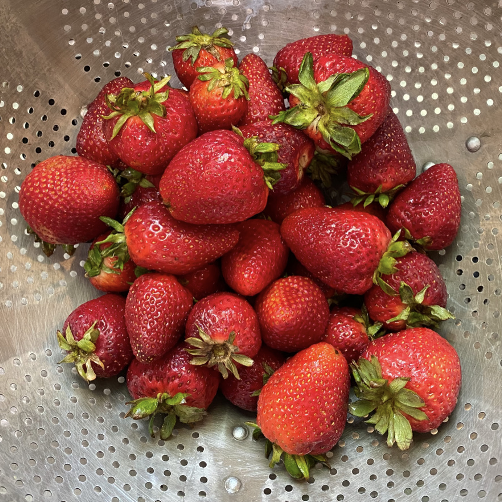 Ingredients:
½ cup butter
½ cup vegetable oil
1 cup granulated sugar
1 egg
3 cups all-purpose flour
1 tsp baking powder
⅛ tsp salt
Filling
3 pints strawberries
1 cup granulated sugar
4 tbsp all-purpose flour
½ lemon (juice and rind)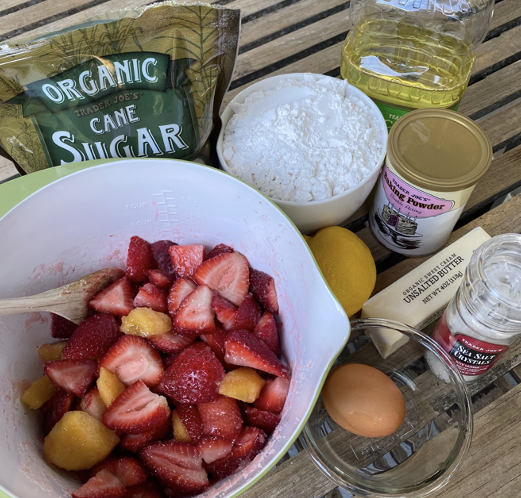 Instructions:
Preheat oven to 350 degrees F.
Cream butter and vegetable oil.
Add sugar gradually and cream well.
Add beaten egg.
Sift dry ingredients and add to creamed mixture.
Reserve 1 cup and pat down the remainder of the dough into a 12-inch (30 cm) springform, bringing the dough up the sides to within an inch of the top.
Mix strawberries, sugar, flour, and lemon rind and put into prepared pan.
Sprinkle with lemon juice.
To remaining dough, add a little flour and crumble with fingers to make a streusel.
Sprinkle on top of berries.
Bake for 1 ¼ -1 ½ hours.
Before serving, dust with icing sugar.