Pumpkin Gnudi with Sage and Brown Butter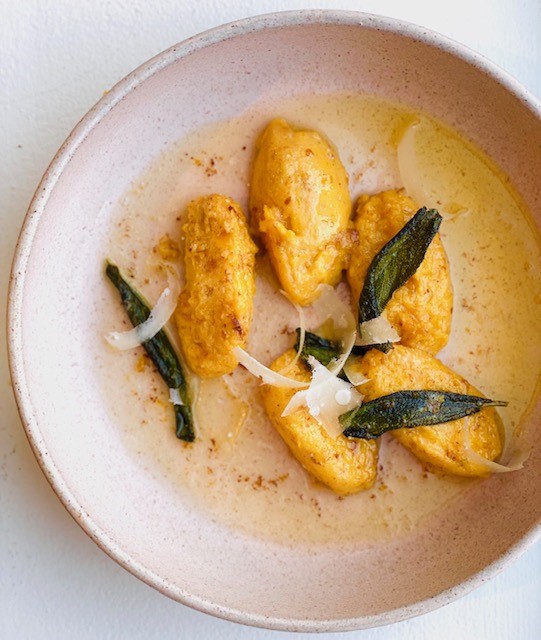 Pumpkin Gnudi with Sage and Brown Butter
Serves 4
Squash, pumpkin, gourd, zucchini- they all belong to the same genus Cucurbita. And even though we mostly treat them as a vegetable in culinary terms, they are classified as a fruit, like the tomato. The word itself, squash, comes from the Narragansett Native American "askutasquash" meaning "eaten raw or uncooked" and the early Pilgrims largely ignored them until harsh winter set in. They became such a staple they grace our Thanksgiving table.
Like the tomato, corn, and potato, the squash, gift of the New World,  made its way to the Old. It has found infinite expressions in Italy, as in the dish here, gnudi alla zucca. Gnudi originated in Tuscany and literally translates as "nude". They are the filling of stuffed pasta, sans pasta. Similar to gnocchi, they are made with ricotta and semolina instead of potato and so are pillowy and light. Traditionally they are served with a light tomato sauce or,  as here, with butter and sage.
Ingredients:
1 Small Pumpkin
1 Egg
¾ Cups Ricotta
¾ Cups Grated Pecorino
⅔ Cups Flour
Sea Salt
Freshly Ground Pepper
Lemon Zest
2 tbsp Olive Oil
3 tbsp Butter
A Handful of Sage
Instructions:
Cut the pumpkin in quarters and roast in a 375F oven, peel side up, until the pumpkin is soft, about 35 minutes.

Scoop out the flesh into a cloth and squeeze excess water out.

In a bowl, add the cooked pumpkin, egg, ricotta, pecorino, flour, and salt and combine until smooth.

In a pot of salted boiling water, scoop out the mixture with two teaspoons and drop into the boiling water. The gnudi are cooked when they float to the top.

In a pan, melt the butter, olive oil, and toss in the sage leaves. When the butter becomes hazelnut coloured, add the gnudi, toss and serve with a grating of pecorino, black pepper and grated lemon zest.